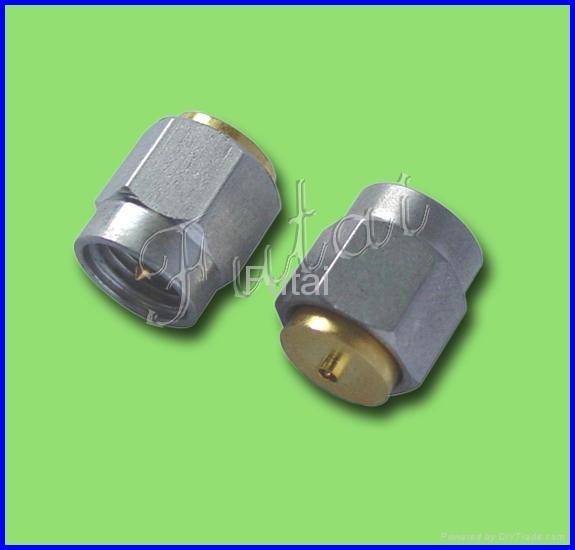 SMA male to IPEX Male Adaptor
Model No.︰
FT-Connector140
Brand Name︰
Futai
Country of Origin︰
China
Unit Price︰
-
Minimum Order︰
1 pc
Product Description
We can produce the connector according to your drawing or requirement.

Detailed Product Description

SMA Male to IPEX Male Adapter
Type:SMA-J/IPEX-J-140
Place of Origin: Guangdong,China
Brand Name:Futai
RF Coaxial connector

SMA Male to IPEX Male Adapter-RF Coaxial Connector
Specifications:
Model

FT-Connector140

Major Technical Characteristics

Type

SMA-J/IPEX-J-140

Impedance

50Ω

Frequency Range

DC~12.4GHz(Semi-Rigid Cable DC-18GHz)

Center conductor retention force

≥0.28 N

Insertion Loss

≤0.15dB/6GHz

Voltage Standing Wave Ratio

Straight Flexible Cable ≤1.10+0.02f

Semi-Rigid Cable≤1.07+0.018f

Right angle Flexible Cable ≤1.20+0.03f

Semi-Rigid Cable≤1.17+0.02f

Durability(mating)

≥500(cycles)

Material & Plating

Body

Brass

Gold plated

Pin contact

Brass

Gold plated

Socket contact

Beryllium-copper Customized)

Gold plated

Resilient contact

Beryllium-copper

Gold plated

Insulator

PTFE

Crimp ferrule

Copper alloy

Nickel or gold plated

O-ring sealing

6146 silicone rubber

Our Company Other Products:

Futai HK Co.,Ltd
is specialized in designing manufacturing and selling all kinds of RF connectors, Cable Assemblies and antennas.Our major products are three catagories:RF Connector , Cable Assembly and Antenna

.
Connector are including RF Connectors(withSMA,SMB,SMC,SSMA,SSMB,SSMC,SMZ,7/16,MMCX, MCX, TNC, F, BNC ,N, and so on).
Cable assemblies are including interface cables (with U.FL, H.FL, IPEX, SMA, SMB, MCX, N, MMCX connector and so on ).
Antennas

are

including GPS antenna, WiFi antenna, GSM antenna, DVB-T antenna, GPS/GSM combination antenna, GPS engineer board.


We are welcoming you to ask sample for testing ,welcome to our company website to do business
.

http://www.futai8.com http://www.gpsgf.com http://futaihk.en.alibaba.com
Payment Terms︰ TT/Western Union
Related Products